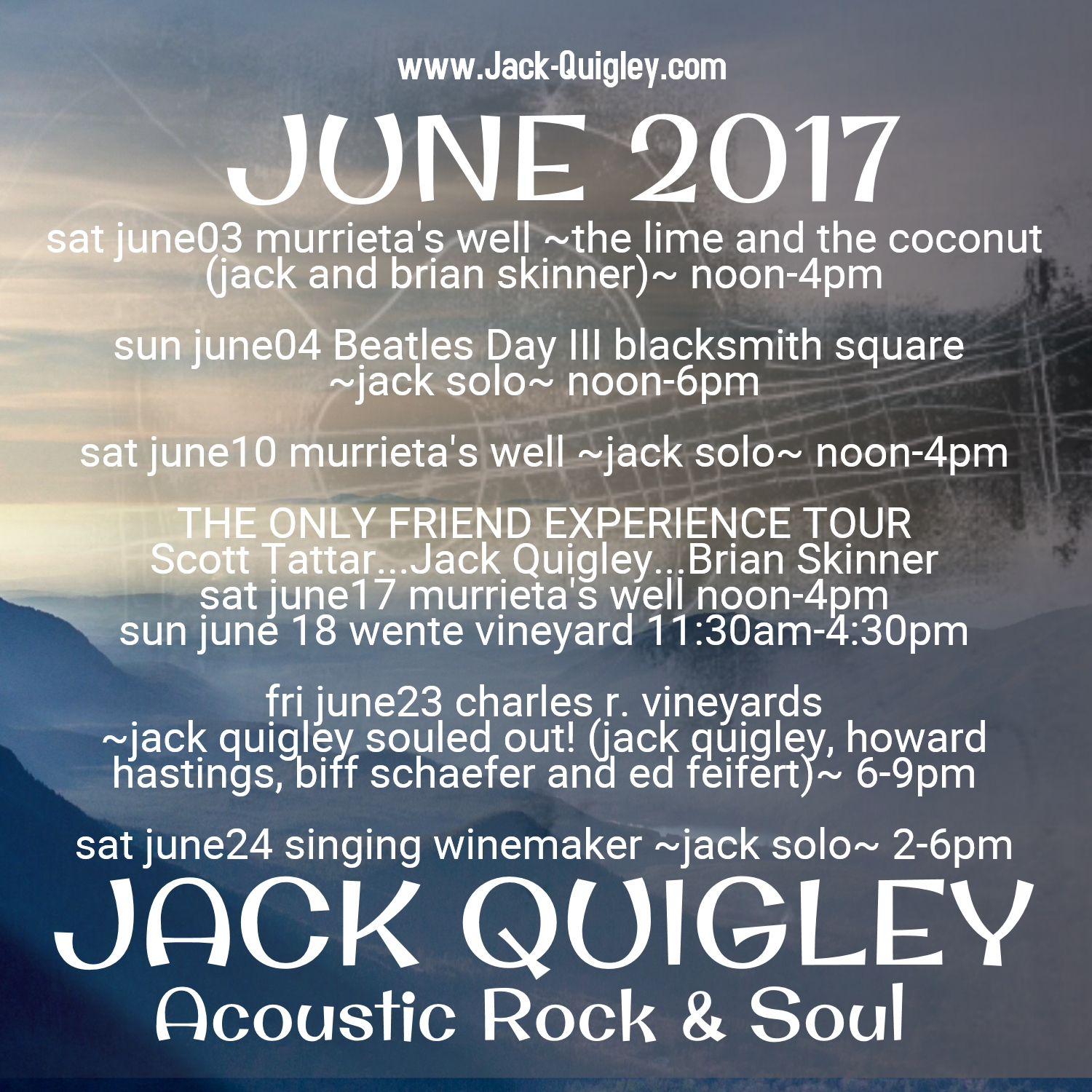 Welcome…
Here we are in June! Summer is here… well almost. I will be out and about every weekend in June.  The first three Saturdays at Murrieta's Well Winery with Brian Skinner on Bass. The last Saturday solo at the Singing Winemaker at Tesla Vintners.
Sunday June 4th is BEATLES DAY III. Third year in a row presenting 6 hours of non-stop Beatle music. I'm playing five 20 minute solo acoustic sets in between the bands. Playing some great songs from the Fab Four as well as material from their solo years. Hats off to Brian Cooper who puts this together each year. His band Better Days will be playing along with Mr. Mustard, The Repeatles, The Rubber Souls, The Collective and Frankie Bones. It will be a great day on Blacksmith Square. Yeah! Yeah! Yeah!
Big News is the Only Friend Experience Tour June 17th and 18th! Best Friend and Percussionist, Scott Tattar will join Brian Skinner and myself at Murrieta's Well and Wente for some great sounds. Scott and I met in college in the late 70's and played music together from then and throughout the 80's in various projects, most notably in the duo Jack Quigley and His Only Friend (Scott being  the Only Friend). Bring a friend out to hear some fantastic music.
Happy to be playing with some friends on Friday June 23rd at Charles R. Vineyards. It's Jack Quigley Souled Out! Joining me are guitar god Ed Feifert, bassist and guy who sings harmony and makes me sound great Howard Hastings and the man who's sweet and keeps the beat Biff Schaefer on percussion. The band is playing once a month this summer and this is a great place for music and great wine.
Playing at a winery near you… hope to see you!
Peace and Harmony – Jack
Contact Jack Quigley:
jackquigley52@yahoo.com
(925) 719-7246